Fried food is a rare at home, i hardly make appalam or vada, if kids feel like having appalam, i make it in the microwave. Once in a month, we might have appalam for our friday lunch. For the past week i m making pakoda, samosa almost every other day, and kids are wondering, what happened to me suddenly😄. Yday's Onion samosa, sold like hot cakes, i made just 8, and had to save 3 for their dad. Today's Palak Pakode too is a hit, serve it straight from the pan, they will be asking for more.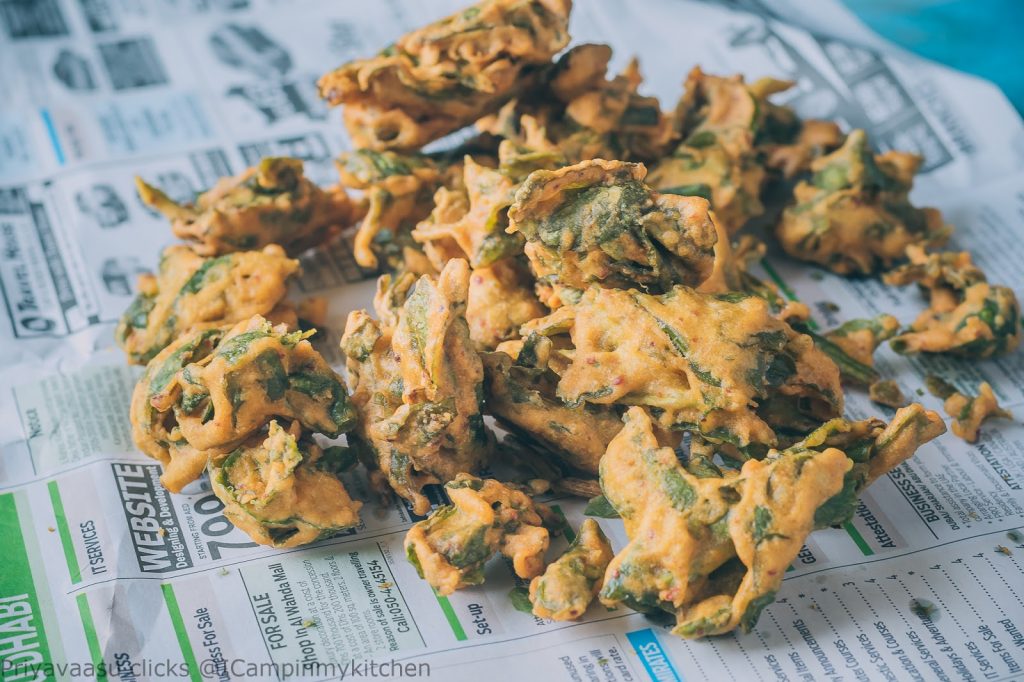 I made them for our evening chai, hot chai paired so well with the pakode. While i was looking for the recipe, i came across 2 different methods , one frying each leaf of palak dipped in batter and other is fine chopping the leaves and making the batter with it and frying it like vada. But when i searched specifically, how it is made in the roadside stalls, i came across this method. I m linking the videos which i saw and adapted, they chop the leaves roughly and add it to the besan flour batter. Some use green chili, i have used chili powder. Use of ajwain and cumin is optional, but i prefer them in my deep fried food, as they aid digestion and avoid heart burn. A perfect snack to enjoy on a weekend evening, do try and let me know how you liked them.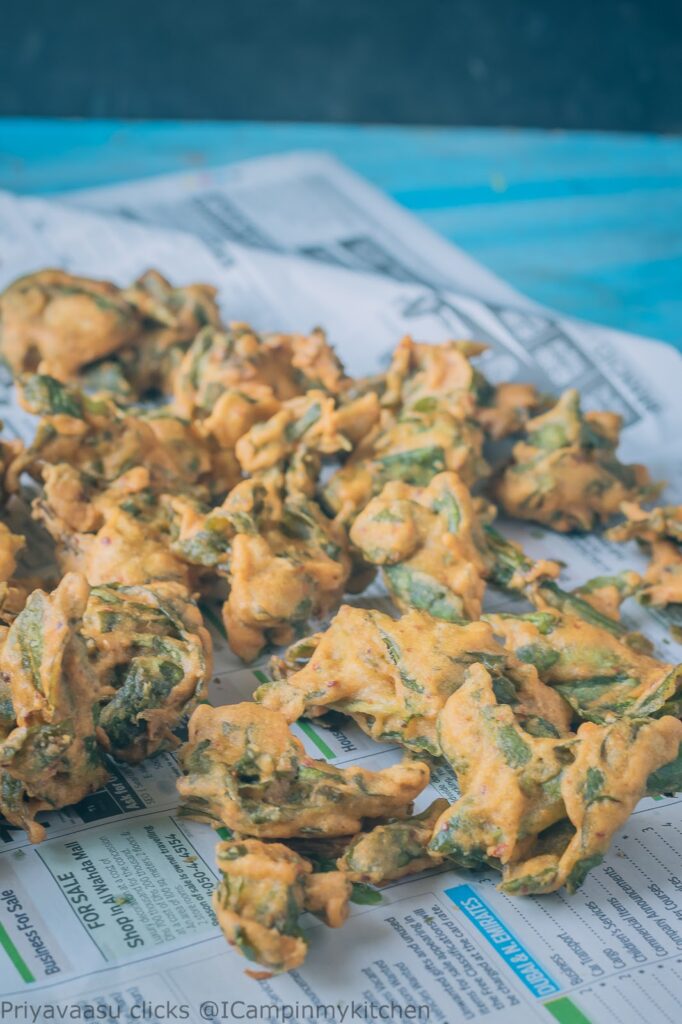 Video reference here, here and here
Ingredients
1 bunch palak/spinach
1 cup besan/gram flour
3-4 tbsp rice flour
1/2 tsp -3/4 tsp red chili powder
1/2 tsp coriander powder
2 sprigs of curry leaves
2 pinches of ajwain/carom seeds
2 pinches of cumin seeds
1/2 tsp salt or to taste
1/2 cup – 3/4 cup of water
Oil for frying

Method
Wash the spinach leaves well in running water. Chop off the stems, take only leaves. Chop leaves roughly. Do not chop thin or fine, just a rough chop,a bunch into 3 or 4 cuts. Let this sit in a drainer.

Let us make the dough. Take besan, rice flour in a large bowl, to this add red chili powder, coriander powder, cury leaves, ajwain and cumin and salt. Whisk well to combine.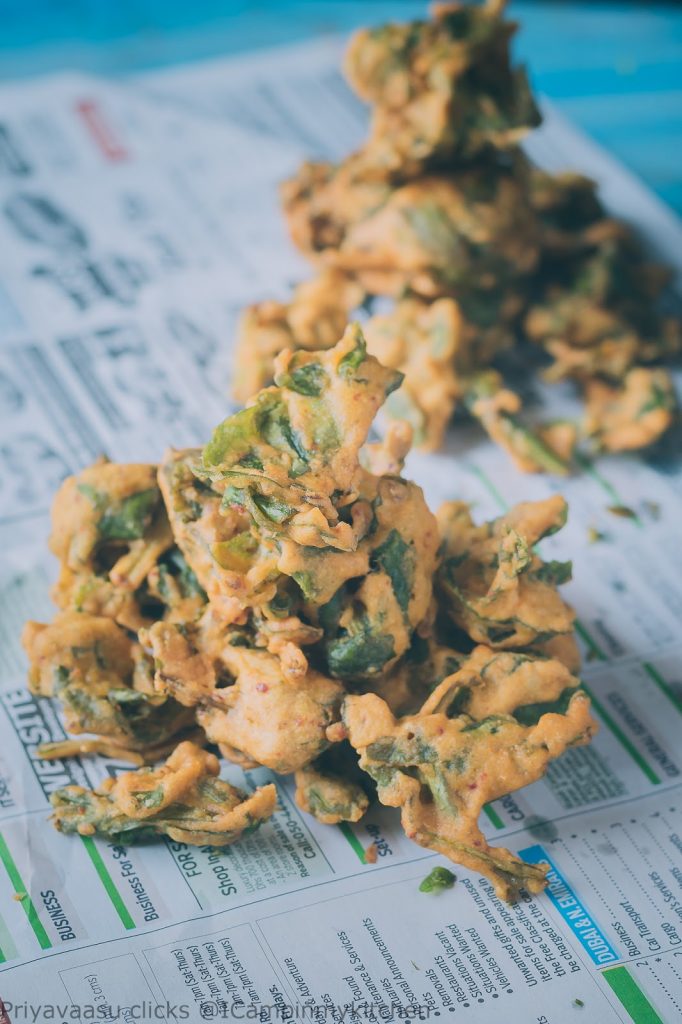 Now slowly add water to this and make dough, it will not be runny or too tight like chapathi dough. it will be little lose.Use only the 3/4 cup of water not more than that, it will make the batter runny.

To this now add the spinach and mix well. Heat oil for frying, once it is hot, take small portion of batter and drop into hot oil. Take a small portion and drop into the hot oil.You can fry 6-7 at a time.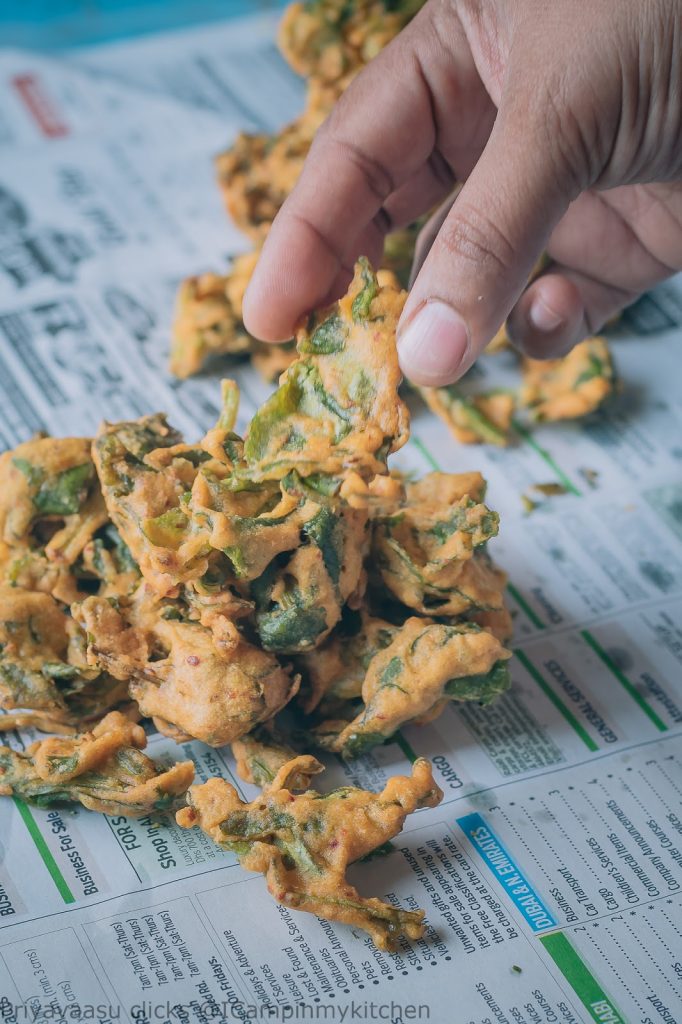 Do not crowd the pan, cook them nice and brown on all sides. Remove using a slotted spoon onto a paper towel. Serve it hot, along with some hot chai.