Idly is most famous south-indian breakfast, every south-indian would defintely agree on this!!! Soft,fluffy and dunked in sambhar/chutney, bliss!!!! And also it fits the bill of Oil-free breakfast!!!! When i decided to cut-down on my rice consumption, i switched to brown rice. Though both white rice and brown rice are the same when it comes to calories, the low GI gives thumbs up to brown rice. Only recently i started making brown rice dosa's and today i tried to make idly with it. Eveybody at home was happy with the breakfast, though it didn't have that bright white color of our idly, taste-wise it was the same.
Ingredients (makes 12-14 normal idlies)
1 cup brown rice
¼ cup urad dal
¼ teaspoon methi seeds
Salt to taste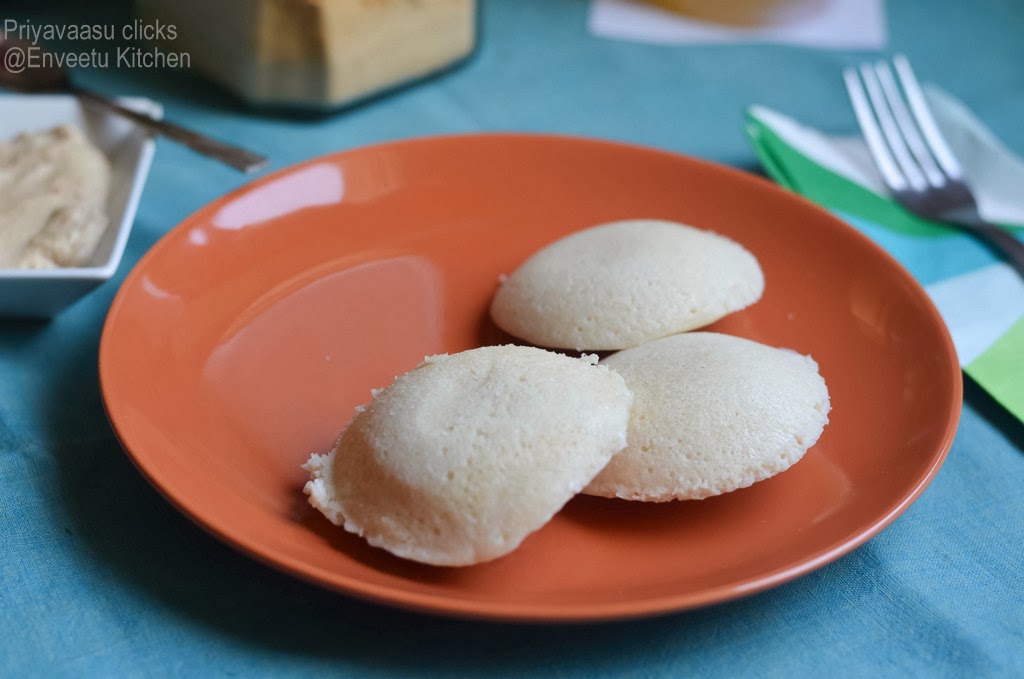 Soak rice and dal separately for 3-4 hours. Soak methi along with urad dal. I normally use my mixie to grind dosa/idly batter. First drain the excess water from the dal and grind it to a smooth paste using enough water.
The batter will come frothy when it is grinded well, that is the indication for the doneness. Transfer it to another bowl
Next grind the rice to a smooth batter by adding enough water.
Mix both the batter together and let it sit for 8-9 hours/ overnight for fermentation. Since the climate is a bit cold here, i left the batter inside my oven with the lights on.
Next day morning or after the required time, add salt to the batter give it a brisk stir.
Grease the idly moulds and pour half a laddle of batter in each mould. Steam cook for 10-12 minutes or until done.
Take it off the steamer, let it cool for 5 minutes. Unmould the idlies to a serving plate and serve hot with sambhar/chutney/podi. I served it with 3-nuts chutney and Idly podi.