Baking Egg-less Group, is a group of enthusiastic bakers experimenting our way and learning to use different Egg Substitutions in a Bake recipe. This Month Archana of Mad Scientist Kitchen, Suggested us to bake these Cute Looking Cauldron Cakes. Frankly speaking, never heard of them till she asked us to bake them. Cute Looking Devil Cupcakes Filled with Filling of your Choice and totally drenched in Chocolate!!!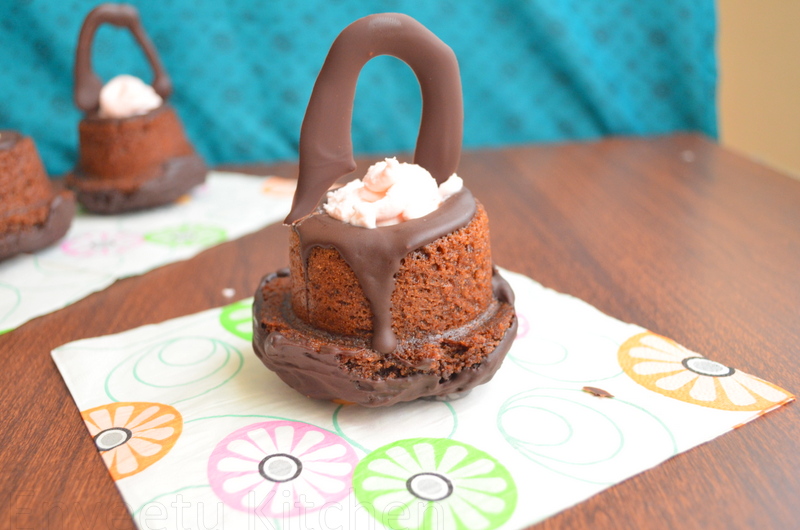 I did a little research on
What is this Devil Food Cupcake?
So, Wiki tells
Devil's food cake is a moist, airy, rich chocolate layer cake. It is considered a counterpart to the white or yellow angel food cake. The traditional Devil's food cake is made with shredded beets much the way a carrot cake is made with carrots.[citation needed] The beets add moisture and sweetness to the cake, helping it to be very rich. The red of the beets slightly colours the cake red and due to the richness of the cake it became known as the Devil's food. The cake is usually paired with a rich chocolate frosting.Devil's food cake is generally more moist and airy than other chocolate cakes, and often uses cocoa as opposed to chocolate for the flavor as well as coffee.[1] The lack of melted chocolate and the addition of coffee is typically what distinguishes a Devil's food cake from a chocolate cake, though some recipes call for all, resulting in an even richer chocolate flavor. The use of hot, or boiling water as the cake's main liquid, rather than milk, is also a common difference.
i have used my regular Chocolate Cake Recipe, But altered it according to the rules of a Devil Food Cake and got a really Dark and Rich Cake!!! I have used regular Whipping Cream for filling and added a dash of Color to make it look like Love Potion, remember Ron Weasely mummbling after eating those Love potion infused Chocolates from Romilda Vane!!! 🙂 Totally enjoyed baking them and gobbling them!!!
Ingredients :
Devil Food Cake
1 and ½ Cups All Purpose Flour
3 tablespoon Beetroot Puree
2 tablespoon Instant Coffee Powder
1 tin/400gm sweetened condensed milk
Few Chocolate Chips for the base of the Cauldron
Chocolate Glaze
100gms of Dark Chocolate (i used Lindt 70% Cocoa)
Filling
2 teaspoon Rose Syrup (i used Roofafza)
3 tablespoon Powdered Sugar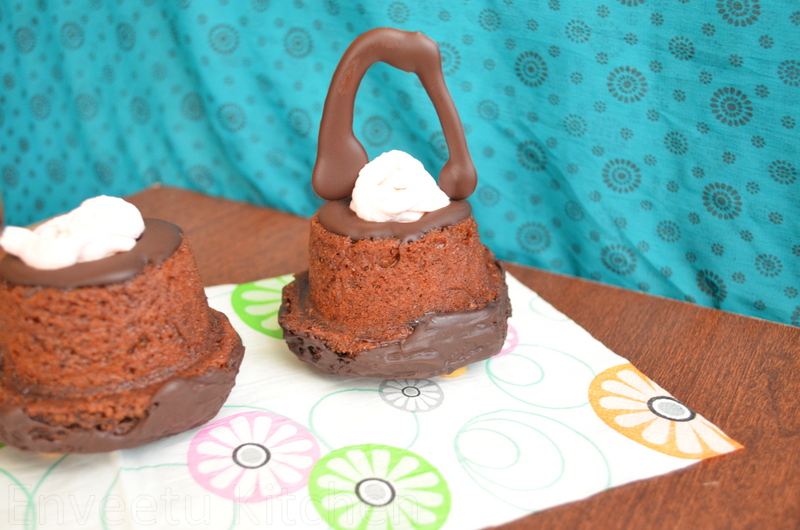 Method
Preheat Oven to 180C and prepare the muffin pans. Mix together Hot Water, Cocoa Powder and Instant coffee Powder, Stir well. Keep Aside

One small beetroot(size of a Golf-ball), Peeled, Chopped and Cooked in half cup of water in a slow flame. Let it cool. Puree it in a mixer and set aside.

Sift together All Purpose Flour, Baking Powder and Baking soda. Add Condensed milk, Oil, Cocoa-Coffee Mix, Beetroot Puree to the flour mixture. Using a Electric Beater or a Whisk beat/stir until well combined.

Pour the batter into the prepared Muffin Pan little above ¾th of their Capacity.

Bake @ 180C for 10 minutes and reduce the temperature to 160C and bake for another 15 minutes or until a tooth-pick inserted in the center comes out clean. Let it sit in the Oven for 2 minutes. Take it out and Cool Completely on the Wire Rack.
Chocolate Glaze
Melt Chocolate and Butter in a Double boiler until Smooth. I used a Flat pan with ½ Cup Water and placed Deep Bowl in the pan, to melt my Chocolate. Water should not touch the Chocolate, to get a smooth n Silky Glazy Melted Chocolate. The Glaze might harden once it is off the heat. If it hardens, take it back to heat to melt.

Pipe some glaze in the shape of handles in the shape of C, on a parchment paper and refrigerate until use.
Filling (Love Potion)
Using a Electric Mixer, Beat together, Whipping Cream, Rose Syrup and Sugar until Soft peaks form. Refrigerate until use.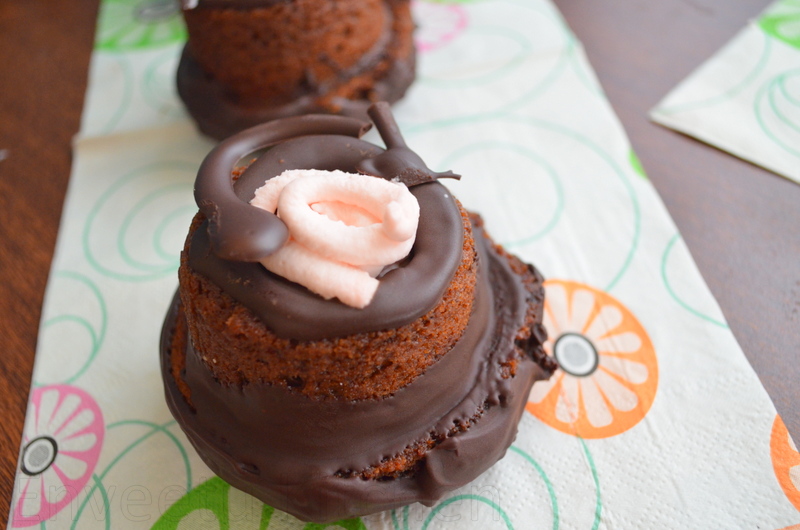 Assembling the Cauldron.
Invert the CupCakes, Insert a carving knife @ the botttom and make a Cavity for the filling. Stick a knife to the center and and Move it along in a circular direction to make a hole in the center. 🙂

Dip the base in the Chocoate Glaze and put 3 Choco-chips in a Triangle position for legs of the Cauldron
Spoon glaze over the edges of the top. Place them back on the tray to dry or stuck in the Refrigerator for a quick dry. I left them on the Counter for 30minutes.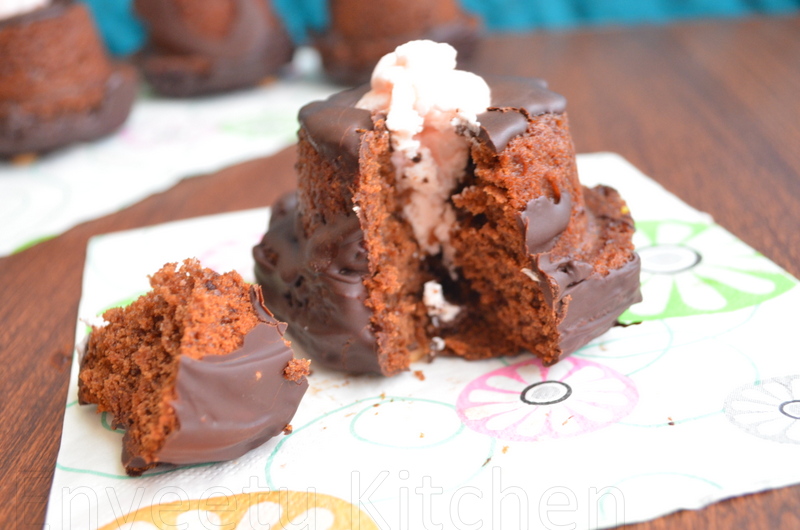 Pipe the Love Potion (a) filling into the Cake and refrigerate until serving time. While Serving, Peel the handles from the parchment and place it on the Cauldron and Serve.

The handles will start to melt when kept outside for long. So, If you take it out, gobble it fast!!!!