This sambar was is my to-do list for a long time now. I make something similar to this but without vegetables and tamarind, just tomatoes and onion, will share that some other time. The flavor of this sambar is amazing, hubby loved it when he had nuchinunde, another delicious kannadiga special breakfast, that will be up tomorrow. 
It has a balanced flavors, a medley of sweet, spicy and tanginess. As my elder one, prefers sambar more with his idly/dosa, he was elated when i served him menthe dosa/methi dosa along with his hotel style sambar. We even had it with rice for our lunch, but then decided to pair it only for idly/dosa. The taste of jaggery was little odd, when we had it with rice.  Do try and let me know how you liked it.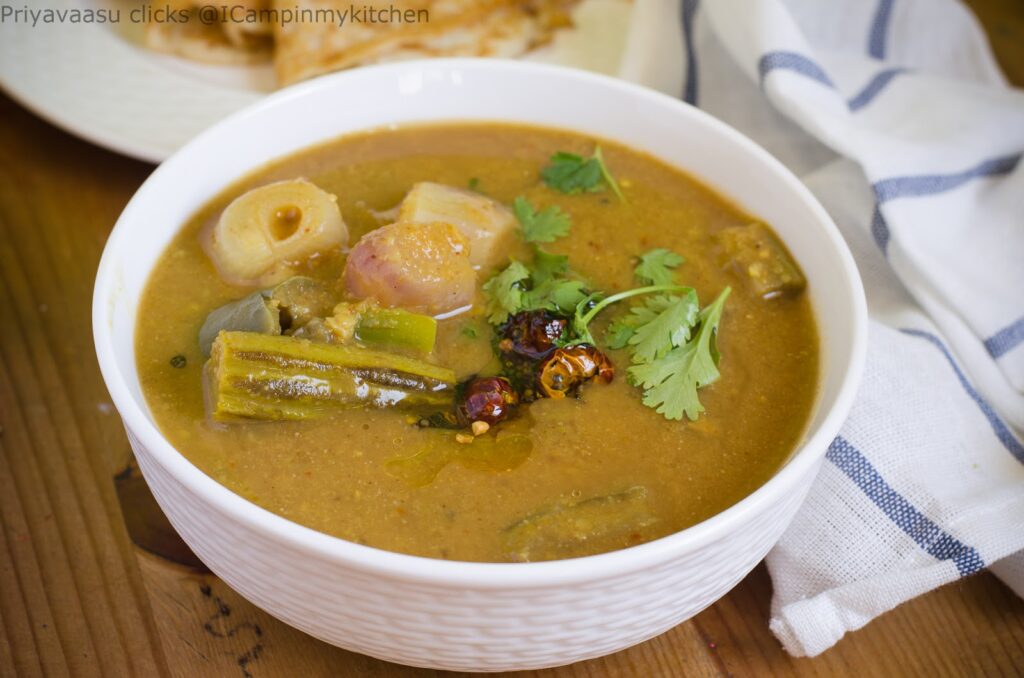 Ingredients
½ cup Tuvar dal/split pigeon peas
1 no drumstick, chopped into 1 inch piece
2 nos brinjals, i used long ones, chopped
8-10 nos shallots, peeled
1 potato, peeled and chopped into cubes
lemon sized tamarind, soaked in 2 tablespoon of water
2 teaspoon grated jaggery
1 teaspoon salt
½ teaspoon haldi 
fresh coriander leaves for garnish

To roast and grind
2 teaspoon chana dal
2 teaspoon coriander seeds
5-6 nos red chilies
½ teaspoon cumin seeds
¼ teaspoon fenugreek seeds
¼ cup freshly grated coconut
1 teaspoon rice


Tempering
2 teaspoon oil
½ teaspoon mustard seeds
2 strands of curry leaves
2 round red chilies (optional)




Method
Wash and pressure cook tuvar dal by adding 1.5 cups of water and with a pinch of haldi until done. I use pressure cook for 5 whistles. Let the pressure get down on its own.

In a small pan, add 1 teaspoon oil and roast all the ingredients, except coconut. Let it cool. Take the ingredients along with coconut and soaked tamarind. Add ¼ cup of water and grind it to a little coarse paste. Keep aside until use.

Wash and chop all the veggies, add a cup of water to drumstick, microwave cook for  5 minutes, with a pinch of haldi and ¼ teaspoon salt. Alternatively, it can also be cooked on stove top, just cook until it is soft. Once done, keep aside, until use.

Soak shallots in warm water for 10 minutes, peel the outer cover and keep aside. Chop the brinjals and potatoes into cubes and keep ready.

In a pan, add 1 teaspoon of oil, when it is hot, add the shallots, saute for a minute, next add chopped brinjals and potatoes, add ½ cup of water, add haldi and salt. Let it cook for 10 minutes. Once the veggies are half-cooked, add the pre-cooked drumstick, ground spice paste, and cooked dal to this. Add ½ cup of water to adjust the consistency. Mix well. Let this boil for 10 minutes. Once all the veggies are cooked well and rawness of the spices disappear, add jaggery and let sit for another 5 minutes. 
Remove it from the stove, heat oil for tempering, splutter mustard seeds,  chilies and curry leaves, pour the tadka over the sambhar. Serve it hot garnished with coriander leaves, along with idly/dosa.