Blogging Marathon#15, officially begins today. But the for those like me, whose chose to blog on Traditional Thali Menu, the preparations started a month before.From today I will be Posting Thali Menu for the Next 7 days.  My People @ home had a great time, enjoying the Thali , which I planned & prepped during the Weekends. They now want me Cook Something like this every month, but that request came with a condition, No Detailed Photo-Session PLZZZZZZZZZZZZZZZ!!!! My Hubby even commented that even the photographer in our marriage didn't shoot  our marriage menu this way.
I have Planned the Menu for the 7 days as Breakfast Thali ( 2 Nos), Lunch Thali (5 nos) 1 Festival Thali and  1 Dinner Thali.  Hope you all find it interesting and enjoy the menu as much as we enjoyed it.
Breakfast Thali1 Menu :
For Today's post i m doing Idly and Peanut Chutney
Ingredients For Idly
3 Cups Idly Rice/Ponni Parboiled Rice
½ Cup+ 2 tablespoon Urad Dal
1 teaspoon of Methi /Fenugreek Seeds  (to be soaked with urad dal)
Method
Soak the Rice and Urad Dal separately for 4-5 hours.I usually Soak them Morning and Grind the batter by Afternoon 2 or 3pm.

Drain the excess water from Dal-Fenugreek and grind it to a smooth batter, adding little water. When the Ural Dal Batter froths up while grinding, it is considered done. You get the 'cluck, cluck' sound (air in-between the batter) while grinding.Transfer it to another Vessel. 

Drain the excess water from Rice and Grind it to a smooth batter. 

Mix Rice batter with urad dal batter and Give it a good stir.

Let it Sit on the Kitchen top Overnight for fermentation. The Vessel should be big enough to hold the fermented batter. I always keep the vessel on a plate, to collect the over-flowing batter.

Next Day morning, Mix  the batter well with a laddle and take the required amount of batter for making idly/dosa and Keep the remaining batter in the fridge. 
Add Salt and a tablespoon of Gingely oil to the batter taken out for making Idly/Dosa. Mix well.

Coat the idly plate/mould with gingely oil and pour half ladle of batter in each mould. 

Steam Cook for 10 minutes or until done. When done, take them out, let it cool for a minute or two. 

Remove the idlies on to a plate and Serve Hot with Sambhar and Chutney.

If you are in a hurry and want to unmould the idly immedialtely, just show the back of the idly plate in running water for 2-3 seconds, it will be easy to unmould them. Do not try to remove the idlies while they are hot, you wont have perfect shaped ildy. What is the Mazza/Kick in a Shape-less Idly!!!!
Ingredient Peanut Chutney
2-3 Red Chilies (you can even use green chilies, i prefer red chilies, gives a good color)
a small piece of tamarind (size of marble/Golly-gundu)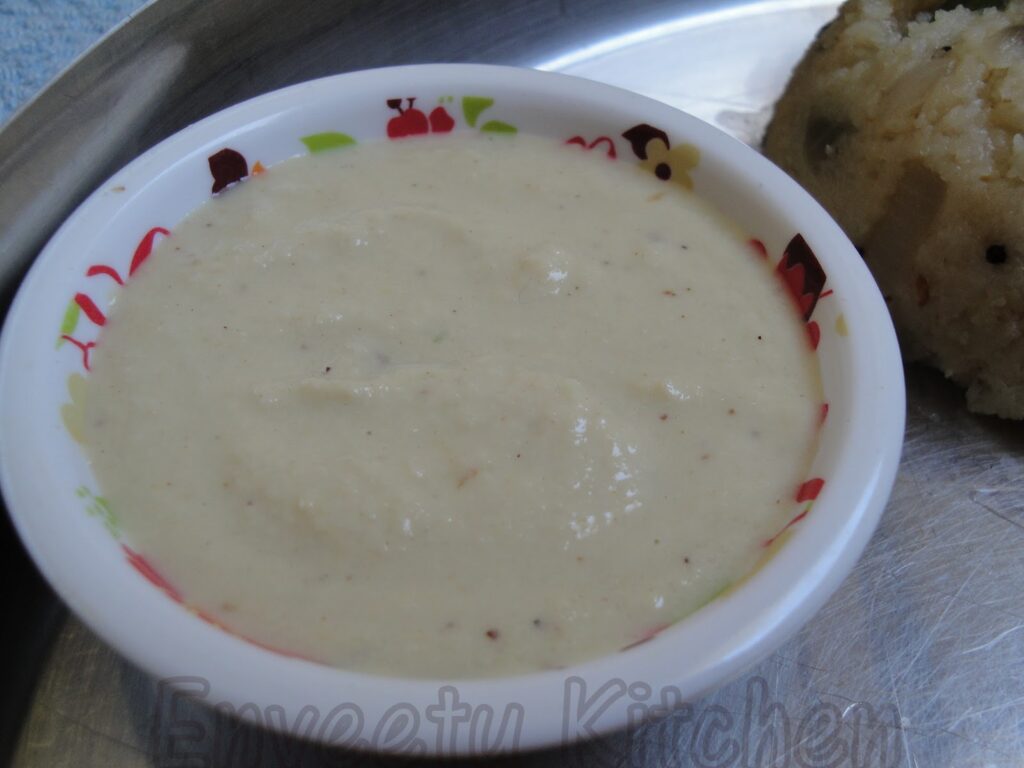 For tempering
 Method
Dry roast peanuts.

Grind with the rest of ingredients to a smooth paste using ¼ cup of water. The amount of water depends upon how thick/thin you want your chutney. We prefer our Chutney to be thick. so i add little water while grinding.
This is My Kuttu's Thali, his Favorite Idly in his Boat Bowl, Peanut Chutney and Pediasure!!!!!
Transfer it to a bowl. Heat Oil given under tempering, splutter mustard seeds, add hing and pour it over the Chutney . Enjoy with your Favorite Idly/dosa. I even try to have this chutney mixed with Rice. Love it!!!!!!