Today's recipe is from
. I found this recipe in
Champa's Bake-off Event Round up
.  My Hubby's loves Cherries, so thought of making it for him. I have halved the original recipe. The Cake was super yummy and moist.
Source : Here
Ingredients:
½ cup All Purpose Flour.
2 tablespoon ground almond powder.
¼ cup glace cherries.
½ teaspoon baking powder.
¼ teaspoon baking soda.
3 tablespoon butter.
¼ cup + 1 tablespoon condensed milk.
1 tablespoon flaked almonds for garnishing.
¼ cup milk (little less)


Method
Sift flour, almond powder, baking powder and baking soda 2-3 times so that the mixture is uniform. Wash the glace cherries and wash off any syrup sticking to it. Pat them dry. Cut them into two and mix them with a teaspoon of white flour. In a another bowl cream the butter and condensed milk, till it is well mixed and the mixture is light and creamy. you can use your spatuala to do this.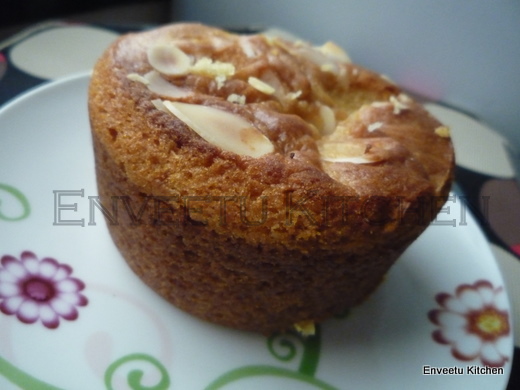 Add the flour mixture to the creamed butter and condensed milk mixture, mixing all the time. Add the milk little by little to get a dropping consistency batter. So, you will not be needing the mentioned amount fully, may be a tablespoon or 2 less than ¼ cup. Fold in the floured glace cherries and spoon the mixture into the prepared mould/tin. Sprinkle the flaked almonds over it.
The Original recipe yields one 8″ inch round cake. I have halved the recipe and got one small palm-sized, rabbit shaped silicon mould cake and one Pyrex Glass Ramekin round cake.
Bake it at 180 C for 15 minutes and then lower the tempreture to 170 C and bake for another for 8 minutes, till the top is light golden and a skewer inserted in the middle comes out clean. The baking temperature according the type of Oven, Type Mould/tin and the quantity you are baking.