One of the simplest salad, that can be made in minutes. The previous Quinoa Kosambari, atleast had some soaking and cooking required, this has totally no cooking. You just have to chop, toss and serve. 
Serve them as part of meal or as an appetizer along with some roasted papad or pita bread. The spicy green chili and fresh mint are sure to tangle your digestive juices and keep your tummy ready for the next big meal.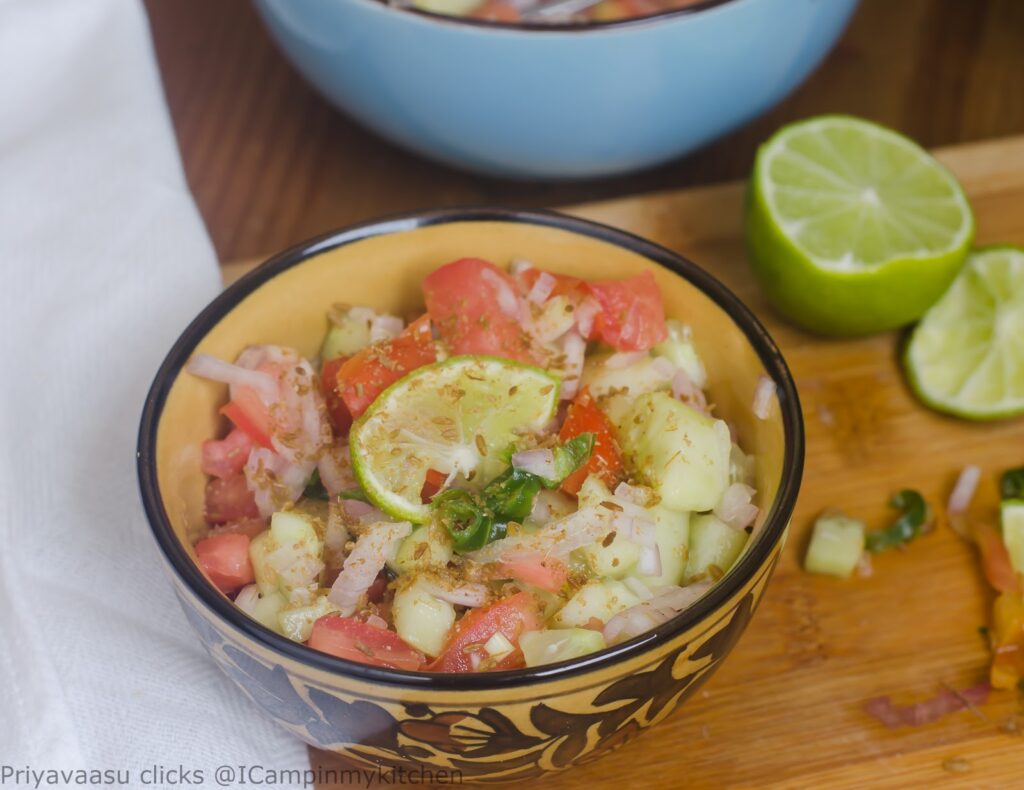 If planning to make this as a meal, then i would recommend adding some legumes, like boiled chickpeas or black-eyed peas, or you can toss in some cooked grains like barley, brown rice or couscous. Keep the dressing simple and enjoy your salad.
Ingredients
1 tsp lemon juice (i didn't have lemon, so used lime juice)
1/2 tsp freshly roasted and pounded cumin powder
few coriander leaves for garnish (i forgot to add)
Wash, peel and chop cucumber into bite-sized pieces. Chop onion and tomatoes to the same size. Remember to remove the seeds and pulpy part of tomatoes, they will make the salad quite soggy.

Take the chopped veggies together in a large bowl, add salt and chopped green chilies and mint leaves, toss to combine.

To this add salt, lemon juice and cumin powder, toss again. Let the salad sit for 10 minutes, for the flavors to mingle. Serve garnished with a slice of lemon and fresh coriander leaves.