It feels as if i m writing a blog post after a lonngggg time, it is actually only 2 weeks since i blogged. I still have 2 posts pending for the Cooking Carnival 2016, i got so busy with Navrathri, then my lil one got so sick, i had to keep him away from school for a week. If this wasn't enough tension for me, my elder one SA exams started, uff!!This is the first time he is facing SA and with 8-10 chapters in each subject, it was like my exam. Finally, got time from everything to tend to my blog.
With Google shutting down its drive sharing services, my recipe index wasn't working, and trusting google, i cancelled my amazon web services 6 months back. All this week was spent, in getting my index back to working with AWS.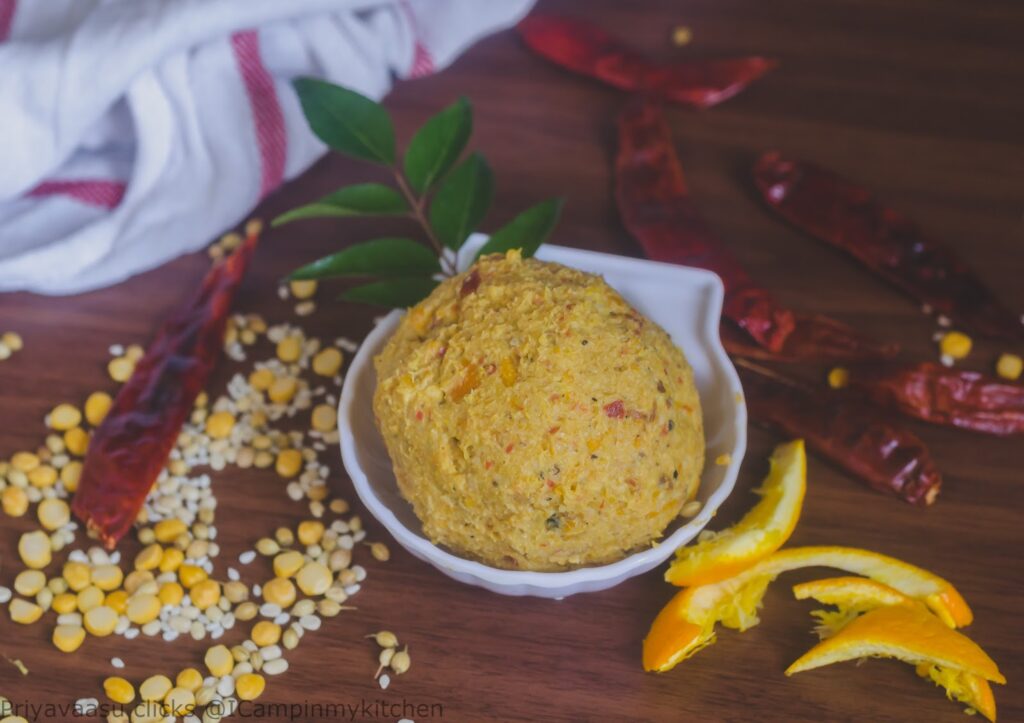 Enough of my rant, coming to today's recipe. After navrathri, i always end up with lot of fruits. Apples, pears, nectarines, and loads of oranges. I chopped other fruits, portioned them in separated ziploc pouches and froze them for future use. I made some orange jelly with the oranges and was left with around 1.5 dozens of orange peels. I didn't want to throw them, so got down and looking for some recipes with peels. I came across sweet chuntey, which i making next, candied orange peels and thogayal. I immediately made a test batch of thogayal, missed some flavors, which i corrected in this batch. The taste is spot on, zesty, tangy and spicy, pucca south-indian thogayal.
It tastes divine with hot steaming rice and yumm as a side with idly/dosa. Take care to add enough chilies and salt, since the oranges tend to mask both the spices to an extent. I have added around 10 red chilies for 2 orange peels, it needs that much spice. Try it and let me know how you liked it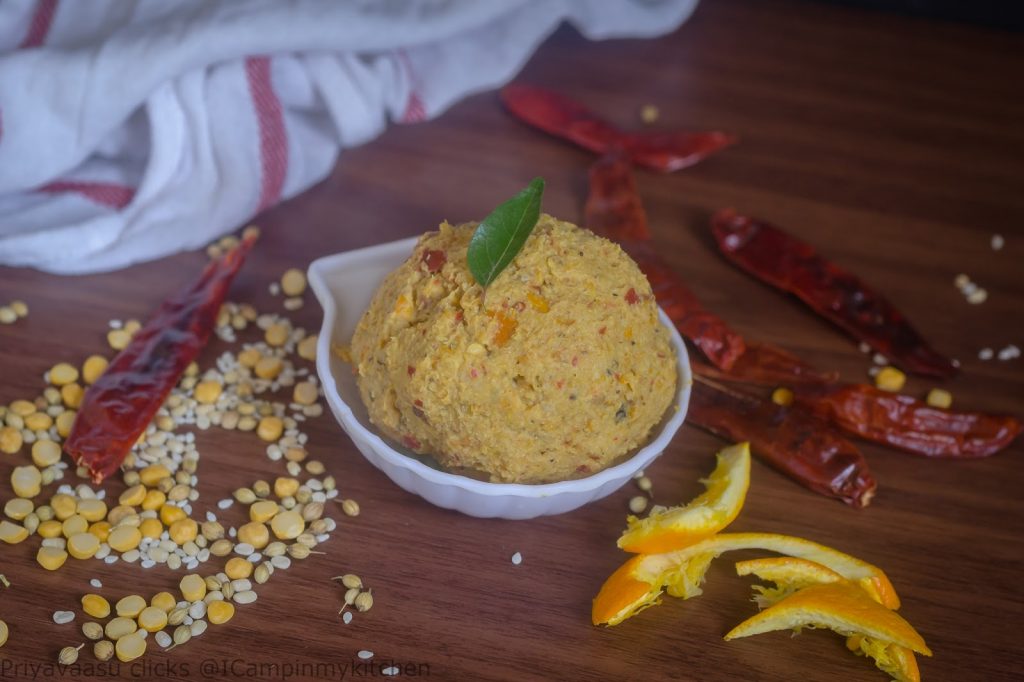 Ingredients
1 teaspoon coriander seeds
1 teaspoon white sesame seeds
10 nos red chilies, i used long variety ( reduce to 8 if you dont prefer it hot)
salt to taste (i used almost ¾ tsp)
2 teaspoon oil for(1 tsp + 1 tsp) for roasting the ingredients
water & turmeric for boiling the oranges.
Notes
I received comments, that 10 chilies is making this chutney a little more on the spicy side, it is a spicy chutney, incase if you feel 10 chilies is more to your spice level, reduce it to 7 or 8 chilies.
Method
Wash and slice the orange peels into thin slices. Take the peels in a saucepan, add water to immerse the peels and heat. Let it boil for 5-8 minutes, remove from heat, drain all the water. Fill water again, this time add 2 generous pinch of turmeric and ½ teaspoon salt to the water. Boil the peels again for 5-8 minutes. Drain the water and keep the peels aside, until use.

The above process, might sound like little work, but that helps in removing the bitterness if any in the orange peels and also makes the peel soft.

Now, in another pan, add a teaspoon of oil, and add urad dal, chana dal, coriander seeds, curry leaves, chilies, asafoetida and pepper corns. Roast the ingredients in a simmer flame, until the dal turns golden brown. Take care not to burn the dal. Once done, remove the contents to another plate and let it cool. To the hot pan, add sesame seeds and take it off the stove. The seeds will get nicely toasted in the residue heat. Add it to the roasted dal.

In the same pan, add another teaspoon of oil and add the orange peels and saute them for 8-10 minutes in a simmer flame. Remove it to a flat plate to cool down.

Once all the ingredients cools down,take them a mixer jar, along with tamarind and salt. Grind them to a coarse paste adding 1 tablespoon of water at time. The mixer might get stuck a bit, do not get tempted and add more water, it will become runny chutney. Add 1-2 tablespoon of water and grind.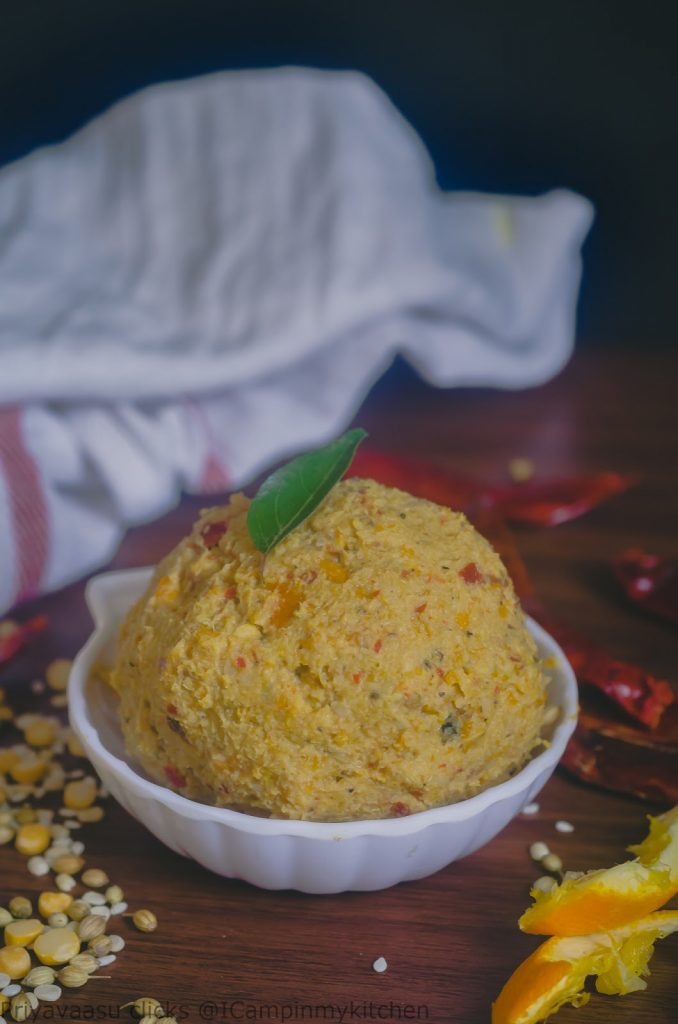 To make it pretty more easy, grind the dals to a coarse paste, then add orange peels, tamarind and grind again.

Remove the thogayal to a serving bowl. Serve it as side along with steaming hot rice and generous drizzle of sesame oil. We even enjoyed along with Dosa. Tasty, spicy and zesty side for rice/dosa.