After a break i m back with our Blogging marathon group and i chose to post Vegan/GF/Paleo recipes for this week. In this genre, i m posting a vegan recipe today, a simple paratha made with colorful beets. Beets is our vegetable. Beets rasam and beets chutney being our favorite.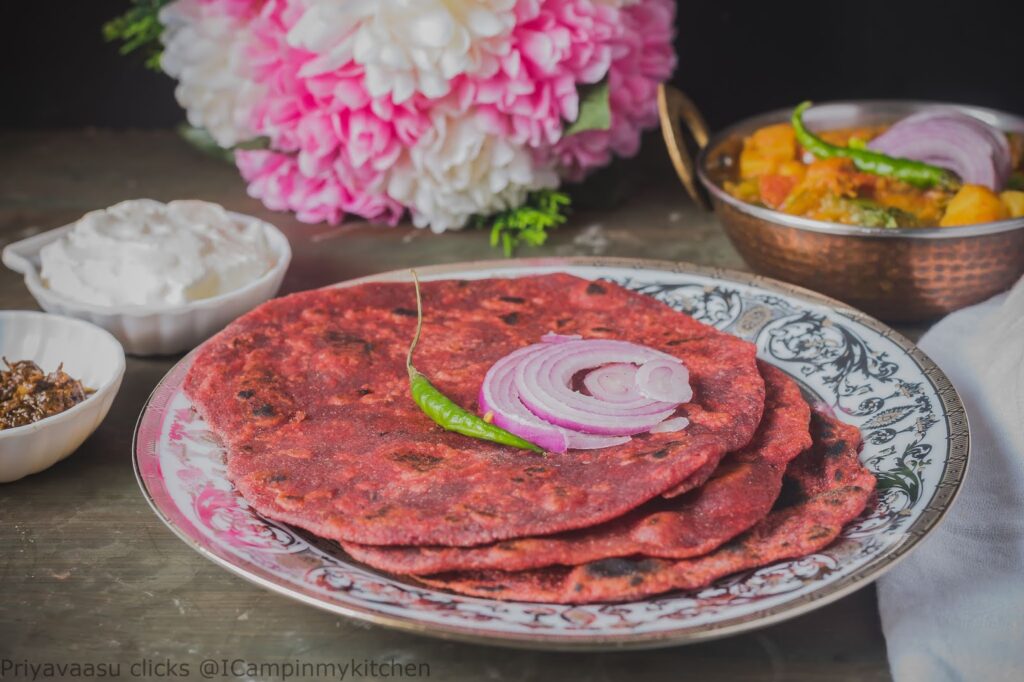 Now this beets paratha too joined that favorite list. I was a little skeptical whether my little one would like it, but to my surprise he loved the mildly spiced paratha, his favorite side for this is plain curd, whereas my elder one enjoys with a spicy side too.
Ingredients
1&1/4 cup – 1&1/2 cup Whole Wheat flour
1/3 cup – 1/2 cup warm water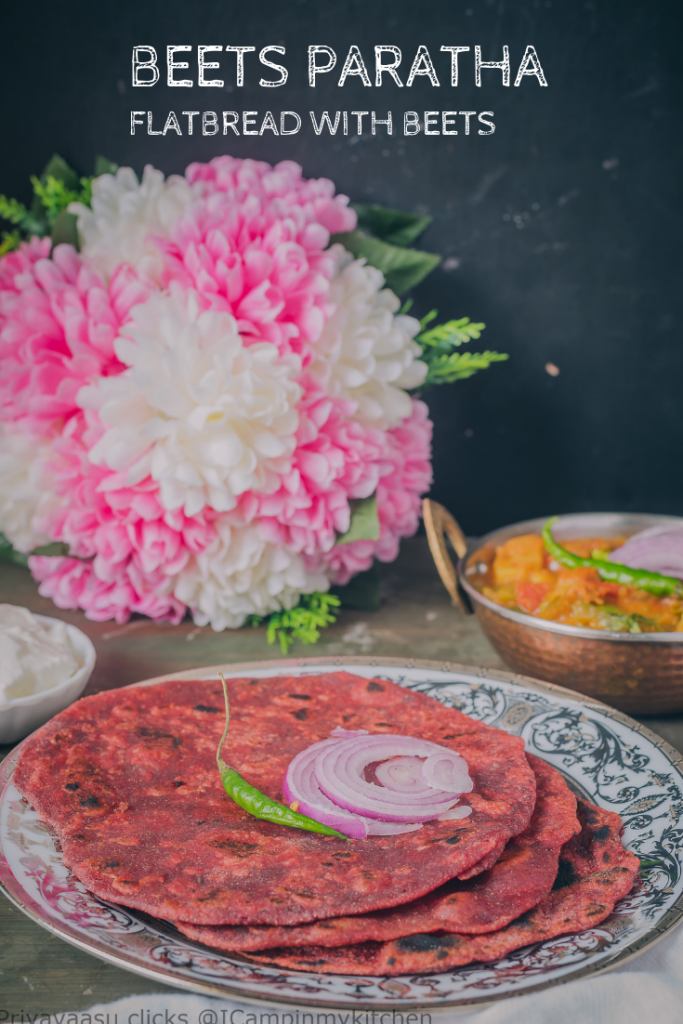 To grind to a coarse paste
80 grams of beets. peeled and cooked until soft.
1 or 2 tbsp of water to ease grinding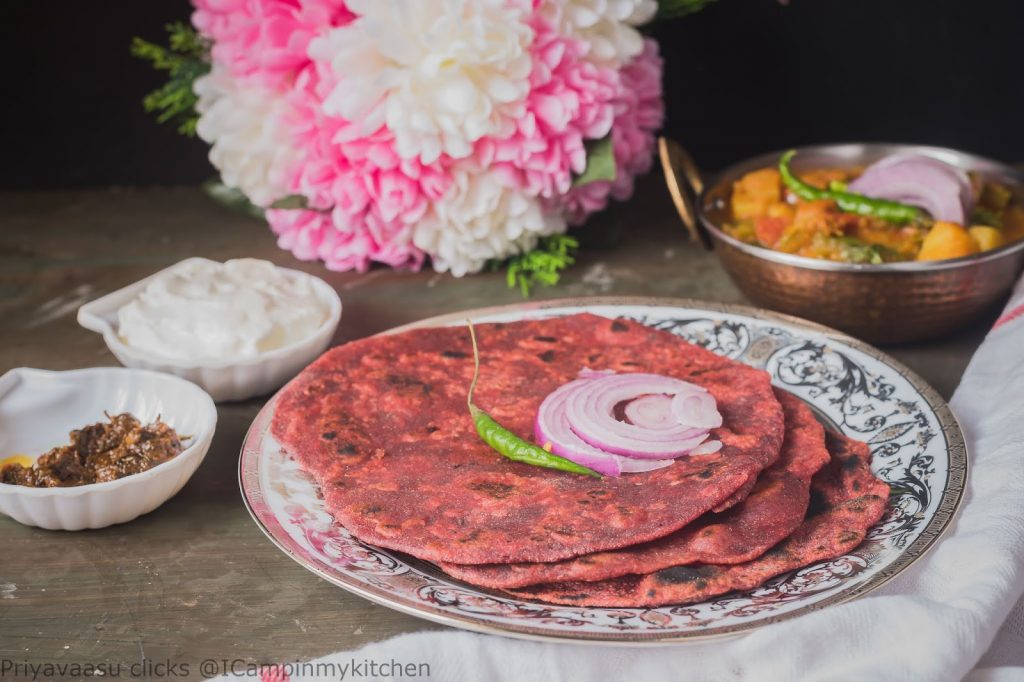 Method
In a food processor or a chopped, take cooked beets,add green chili and cumin seeds to it and blitz away. I prefer almost smooth mix.

If you are doing in a food processor then you can add wheat flour to the processor and continue kneading the dough.

If not, remove the ground beets to a bowl, add flour and salt to it and mix. To this slowly add 1/4 cup of water first and knead and add extra water when you need.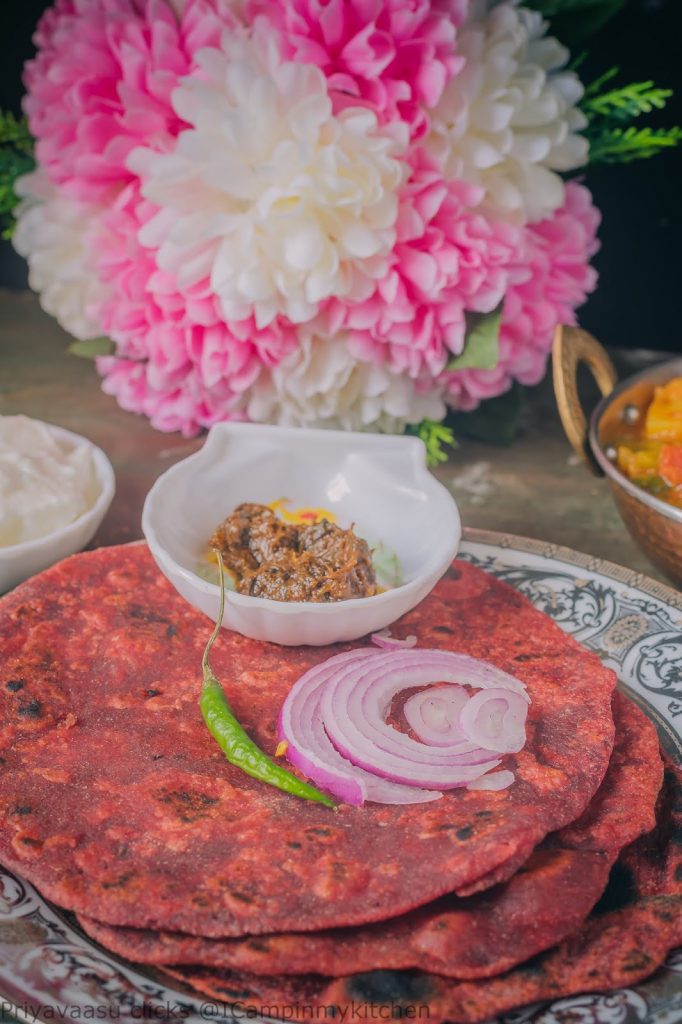 When the dough is almost done, add oil to it and knead to a smooth dough and let it rest for 10 minutes.

Once rested, divide the dough to 4-6 portions, depending on the size you roll. Dust each dough ball with flour, roll out into thin discs, cook on a hot tava on both sides until done. I usually smear ghee once the roti is cooked.

Keep the roti covered in a kitchen cloth until served. I packed these colorful roti's for my kids breakfast box along with Potato and capsicum masala.