I m Living in UAE for the past 8 years, though i have tasted Middle-Eastern Food outside, but never tried them @ home. This is the first time, i made Falafel @ home. No big reason for not making all these days, since we tried it @ home, it will be a definite snack here onward.
A Little info (courtesy : Wiki) about these Cute little, power-packed Snack!!! Falafel is a deep-fried ball or patty made from ground chickpeas, fava beans, or both. Falafel is usually served in a pita, which acts as a pocket, or wrapped in a flatbread.  Falafel balls may also be eaten alone as a snack.
Generally accepted to have first been made in Egypt, falafel has become a dish eaten throughout the Middle East. The Copts of Egypt claim to have first made the dish as a replacement for meat during Lent. The fritters are now found around the world as a replacement for meat and as a form of street food.
Ingredients
4 green chilies

1 teaspoon of All purpose flour
 a handful of Coriander Leaves
Method
Soak Chickpeas in Water for 8 hours or Overnight.

Drain the Excess water and towel dry the chickpeas. There should be no Moisture.

Take the Chickpeas with rest of the ingredients except oil in a mixer. Grind it smooth without adding water.

Transfer the contents to a bowl. knead and shape them into Marble-sized Balls.
Heat Oil in  a Pan, Deep fry the Balls in Batches. Keep the flame in medium and fry, or else you end up with browned outside and uncooked inside falafels.

Serve them Hot as such with Tomato Sauce . My kiddo munched it as such without any accompaniment.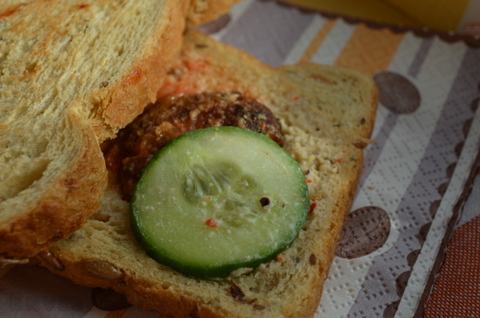 We enjoyed it as a sandwich, with some Peanut Chutney and Tomato Sauce and some Cucumber with toasted Sunflower Seed Bread.